NanoSearch Document Management System ( DMS )
View Feature
Pass Your Documents today. (Protect.Archieve.Share.Search)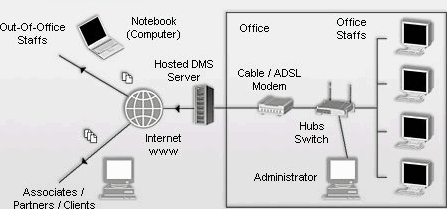 A document management system (DMS) is a computer program (or set of programs) used to track and store electronic documents and/or images of paper documents. Document management systems commonly provide storage, versioning, metadata, security, as well as indexing and retrieval capabilities. The term has some overlap with the concepts of Content Management Systems and is often viewed as a component of Enterprise Content Management Systems and related to Digital Asset Management.
Many companies employ advanced techniques to ensure their electronic data is properly backed up, but few ensure paper documentation is held securely. Document management systems can help retain the vast amounts of information currently held within paper documents and protect it from future disaster.
Document management systems can save a tremendous amount of time, even in cases with small numbers of documents, like home bill payment or personal tax preparation.
NanoSearch DMS is a powerful web-based document management system. It helps organisations lower costs, increase productivity and is suitable for many document and records management. It allows users to gain access from virtually anywhere in the world. Users can check document from co-worker or from business associates.
NanoSearch DMS lets you describe electronic documents by filling in profiles as documents are created or transferred into the system. The profiles are set up within categories defined and organized based on your particular business requirements. Thus each site can create its own unique profiling hierarchy.
The document profiles determine how documents are stored physically on the company network and provide a ready means for users to locate specific documents, or to cast a wider net, searching for documents relevant to particular business purposes or matters.
NanoSearch DMS also delivers industrial strength full-text searching, comprehensive document, and productivity-enhancing collaboration features. It is this unique combination of profile searching and full-text searching, in combination with a full palette of document management services (such as document can see cannot print, version control, full document lists, file access log, reporting, file-level security, and more) that puts NanoSearch DMS in a class by itself.
Designed with dozens of shortcuts and convenience features like Favorite Lists and an attractive, easy-to-use interface, NanoSearch DMS seamlessly connects users with the firms intellectual capital, enhancing efficiency, focus, and effectiveness throughout the organization.